Our Studio
Springwater Pilates and Movement Studio is located in the heart of the beautiful Sellwood Moreland Neighborhood. We are a fully equipped Pilates Studio featuring Balanced Body Pilates equipment and offer mat classes, Reformer classes, duo-trio-quad sessions, and one-on-one private Pilates sessions. If you are interested in becoming a Fully certified Pilates Instructor, we also offer Pilates Teacher Training and Certification through the Nationally recognized Momentum Studios in Albuquerque, NM.
Our studio offers a safe and personally challenging environment and our mission is to assist our clients with finding the best balance of strength, flexibility, coordination, and body awareness.  This balance of mind and body will allow our clients to perform whatever their passion is – be it work, sports, outdoor pursuits, Pilates, or everyday life, with optimal physical and mental conditioning. We believe that skill in integrated movement is the path to whole body health and fitness. All levels are welcome, from the first time Pilates student to the advanced client.
Whether you want to cross-train for a sport, become pain-free, rejuvenate your body after having a baby, or simply look and feel your best, our studio will provide you with both the place and the skills to reach your goals. Our highly trained instructors work with clients of all fitness levels, ranging from those new to exercise to leading athletes looking for new ways to cross-train for their sport. In addition, all of our instructors are skilled in rehabilitating clients recovering from injuries.
The Springwater Movement Studio also offers group Pilates Mat classes, ZUMBA, MELT Method classes, and Thai Chi. We regularly add new classes to the group movement studio so please check our class schedule for updates.
Movement Studio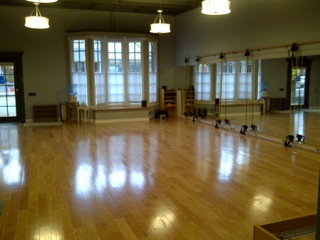 Springwater Pilates and Movement Studio is the space where our Mat Pilates and other group classes are held. This warm and inviting area has 1100 square feet of studio space, a changing room, and private washroom.
We welcome inquiries for space rental from Pilates instructors and other movement disciplines. We also welcome groups holding events with a holistic or somatic focus. Hourly Rental is $35 per hour. Please contact Sally @ 503.816.5125 for more information.