Our Studio
SPRINGWATER PILATES RE-OPENING
Dear Springwater Pilates Friends, Clients, and Community:
It's been a long 14 weeks since closing our doors to follow our Governor's "stay at home" orders. We have missed you and each other very much and are thrilled that Multnomah County has been approved for Phase 1 re-opening. We plan to open up our doors on Friday, June19th.
As we shift to resuming all in studio classes we will continue to offer online group mat classes for those of you that wish to continue to stay home. Any group mat Pilates classes in studio will be limited to 4-5 people per session.
We are now scheduling private and semi private equipment sessions for those of you that are ready to resume your Pilates practice with us in studio. (Please check our schedule each week for updates or communicate directly with your Instructor.)
We have always held your safety and the cleanliness of our studio to the highest standards but when you return to the studio, you will notice some changes due to physical distancing restrictions and some new cleaning protocols. We have been working diligently to ensure that our studio meets the recommendations from Governor Kate Brown, the OHA, and the CDC.
Studio and Personal Safety Protocols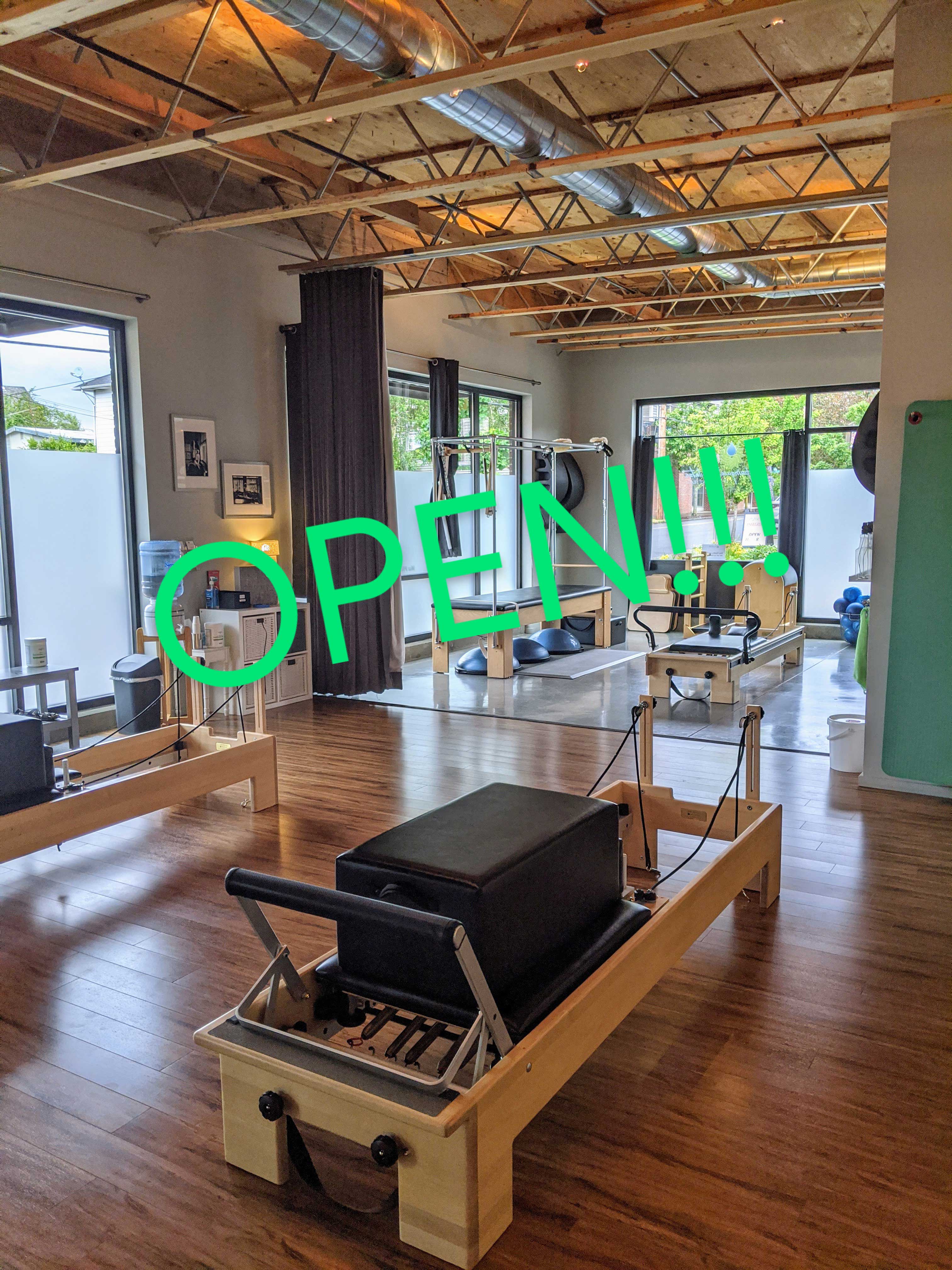 *Most IMPORTANTLY, before entering the studio—and at all times while in the studio—each person must wear a mask that covers nose and mouth. It will be a challenge to teach & perform our focused breathing in a mask but I know we can do it and still have fun! You may bring your own mask or purchase one from us if you forget yours.
*Everyone will be required to wash hands for at least 20 seconds before and after each session. Doors, switches, & surfaces will be sanitized frequently and sanitizing gel and wipes will be provided throughout the studio. Wearing gloves is optional. We will have them available to purchase. Please do not enter the studio wearing gloves.
*Please do not come to the studio if you feel ill at all or have been exposed to anyone with the Coronavirus during the 14 days prior to your appointment. We are waiving the 24 hour cancellation charge if you are unable to attend a session due to illness but we ask that you only use a last minute cancellation for health and safety reasons.
*Please arrive on time for your session. Because we are not able to have a waiting room area, we ask that you arrive no more than 5 minutes early. When you do arrive, please wait outside until your teacher instructs you to enter.
*Please come already dressed for your workout to reduce dressing room hygiene issues. We also ask that you gather your belongings as soon as the session ends and depart. (We will miss the lingering and chatting after but this is a necessary precaution due the the current phase we are in. Feel free to chat outside on the sidewalk before and after your session.) Your instructor will also need extra time to get equipment cleaned and ready for the next session. Water bottles, phones, etc. will need to remain in your bag until you leave the studio.
*Instructors will personally sanitize equipment before and after your use. You will also be required to clean your equipment thoroughly before and after as well. Your instructor will take you through the studio's cleaning protocol.
*We will be ensuring that there is enough space between students, limiting the number of Instructors & students in the studio at any one time to eliminate congestion, and class times will be shortened by a few minutes to ensure there is enough time for extra sanitizing between sessions.
*We really want to hug you! but ask that you remain 6ft away from others while in the studio. Instructors will be avoiding tactile cueing at this time and we will do our best to provide clear verbal cues or demonstration.
*We now have two new medical grade air purifiers operating to ensure clean air and will have our door open for extra airflow when possible.
*Instructors will be taking their temperatures in the morning and we ask that you do the same on the day of your session. The CDC strongly recommends staying home if your temperature is 100.4 Fahrenheit or higher.
*Additionally, we now have personal Pilates reformer loops available for you to purchase at cost for $44.  You may also purchase your own reformer loops on the Balanced Body website if you prefer. We also have some new high quality eco-friendly mats that are available for $30 if you'd like to have your own.
As you know, Pilates is powerful and wonderful. All of us working together to get our studio ready for reopening has been gratifying, emotional, and has made us all realize that if we can survive this (which we will!) we can survive anything. Even through this pandemic, Springwater Pilates instructors have been connecting with and helping people. We've been focusing on our own practice by doing online classes and workshops and keeping our passion for Pilates as strong as ever… if not stronger!
We VERY MUCH look forward to seeing all of your happy faces and appreciate how patient you all have been while we have been navigating this unprecedented time. See you soon!!!
Your Springwater Team,
Sally, Molly, Liz, Kyla, and Dorothy
PILATES
Strength from the Inside Out
Springwater Studio teachers are highly trained and certified professionals who interact, inspire, and motivate with passion. Our favorite thing is to help each student reach their individual goals.
We offer Private and Semi-Private equipment sessions and Pilates mat classes in our clean, contemporary studios. We are conveniently located in the heart of the Westmoreland neighborhood. Classes are small in size in order for each client to receive the best possible attention.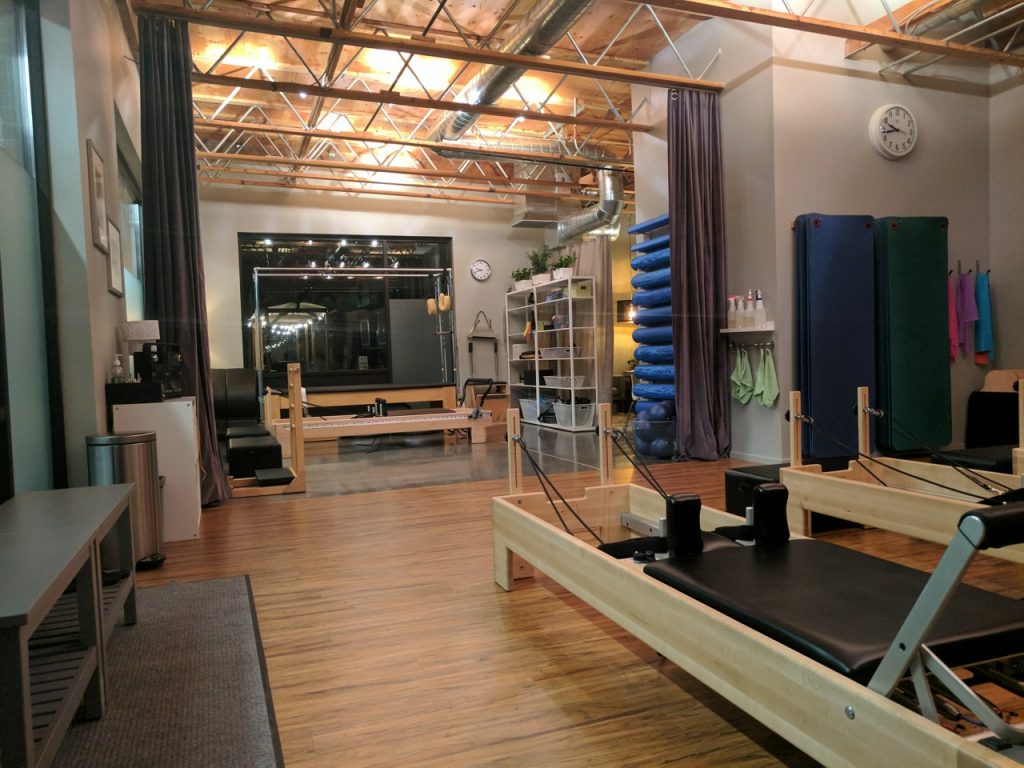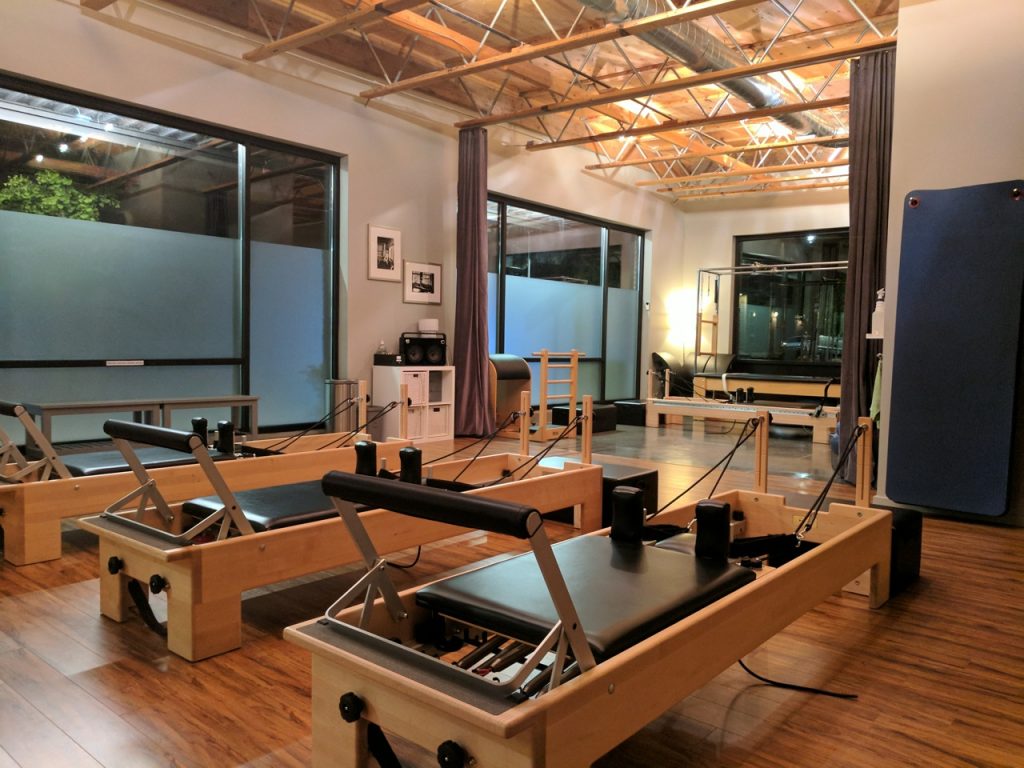 Pilates is a safe and sensible form of exercise that is anatomically based and highly effective with how it can change the way you feel, move, and look. Through the placement of the body in proper alignment, exercises are done to strengthen the core muscles (abdomen and back) that form your "powerhouse" as well as limbs. Great emphasis is placed on keeping the body muscularly balanced. Pilates is a functional and purposeful form of exercise that will help you build strength without excess bulk, improve flexibility, agility, posture, and balance. Pilates is suitable for all skill levels and body types. Our teachers tailor your workouts to your particular needs and goals. From the extreme athlete who wants to enhance their performance, to someone who needs therapeutic healing from an injury. Pilates will help you discover the true masterpiece of your body!