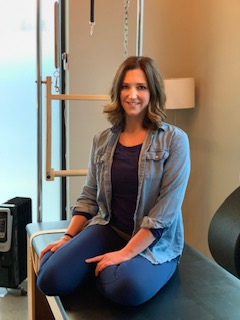 I always loved Pilates, It just makes sense. This practice created a sense of calm, that was rare for myself. The progression of exercises allowed my body to move with control and grace in a way that was exhilarating. Instantaneously I could feel how my breathing could be used to assist the movement. But as a busy University student, exercise often became something to check off my long to do list and I'd squeeze my workouts in as I could.
Years later, I was living in Australia and I haphazardly ended up in a Pilates class. The sheer flow and body awareness was nostalgic. I was so used to more intense cardio classes that I had forgotten about the functional benefits of the practice. Shortly after getting back in the studio I was reconsidering what I wanted to do when I "grew up." I had lived abroad in several countries and worked in array of fields but didn't truly feel passionate about my career. I decided to stop doing what I thought I should be doing and do what I wanted. Teaching Pilates made sense.
I completed a Pilates Apprenticeship program at a Bay area studio and later became nationally certified through the Pilates Method Alliance. There is so much involved in being a great instructor and I am so lucky to have learned from an array of mentors. I am always continuing my education by attending workshops; some that particularly interest me are breath with movement, fascia and pelvic floor.
I truly believe that life can bring you full circle. I recently moved back to Portland, a city I love and adore I am excited to be part of the Southeast community. I am blessed to join the amazing instructors at Springwater Pilates, a beautiful studio right in my neighborhood! I love working with clients of different levels, age and experience. I am happy to make modifications for injuries and variations for advanced clients. I am confident that my experience as a client, apprentice and instructor has given me a vast pool of knowledge to share with my clients. Pilates is so much more than exercise; and there is so much more to learn- I will never get bored and neither will you!
To schedule a class with Dorothy, please use this link: https://dotpiper.simplybook.me/v2/#book
You may contact Dorothy by cell- 971.930.2221 or email- dorothypcronin@gmail.com
Dorothy is also a certified Intuitive Eating and Wellness Coach. Visit her website at www.dotpiper.com